Worship @ Home - Sunday 17 May 2020
'One who loves Jesus lives by the word of Jesus'
The glory of the Lord has risen upon us.  Let us rejoice and sing God's praise for ever!
Good morning and welcome to everyone on this sixth Sunday of Easter.  In our passage from John's Gospel this morning we will hear again Jesus' promise to the disciples to ask the Father to send the Holy
Spirit, the Spirit of Truth.  "He lives with you and will be in you...I will not leave you...I
will come to you" says Jesus.  As we go through these difficult times, we need to
remember that it is the work of the Holy Spirit to come alongside and comfort and
strengthen us. 
Let's praise the Lord with these well-known words.  Say them, sing them or just listen
using this link: https://youtu.be/SA_D9ypWONQ
Praise, my soul, the King of heaven;
to his feet your tribute bring.
Ransomed, healed, restored, forgiven,
who like thee his praise should sing.
Praise Him, Praise Him!
Praise Him, Praise Him!
Praise the everlasting King!
Praise him for his grace and favour
to our fathers in distress.
Praise him, still the same for ever,
slow to chide, and swift to bless.
Praise Him, Praise Him!
Praise Him, Praise Him!
Glorious in his faithfulness!
Father like he tends and spares us;
well our feeble frame he knows.
In his hands he gently bears us,
rescues us from all our foes.
Praise Him, Praise Him!
Praise Him, Praise Him!
Widely as his mercy flows!
Angels, in the heights adore him;
you behold him face to face.
Sun and moon, bow down before him,
dwellers all in time and space.
Praise Him, Praise Him!
Praise Him, Praise Him!
Praise with us the God of grace!  
Thank you, Lord Jesus, for your powerful hand in our lives!
We know that God is love and that God loves all that he has made. And Jesus showed us by his life, and He tells us in his own words that God will never turn anyone away who comes to him. However, our lives are far from perfect. We know that we're not the best we can be, nor the best God longs us to be.   Sin has spoilt our lives and God's world. Sin. Our own deliberate choice to do what saddens God.  We're all guilty of this. God accepts us as we are, but he loves us too much to leave us as we are.  Which is why he asks us to come to Jesus his Son and say sorry. Let's do that now beginning with a moment of personal reflection.  Take a moment in silence or if you prefer listen to Brian Doerksen's song 'Purify my Heart' using this link:  https://youtu.be/0IvXA0yRDwY
And now read through these words that are taken from Psalm 25:
To you, O Lord, I lift up my soul.
I put my trust in you, O God,
do not let me be put to shame;
do not let my enemies exult over me.
Do not let those who wait for you be put to shame;
let those be ashamed who neglect your faithfulness,
and who act with evil intent.
Teach me your ways, O God
and guide me in your paths.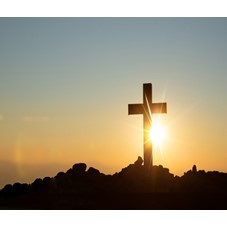 And we pray
God of mercy,
we acknowledge that we are all sinners.
We turn from the wrong that we have thought and said
and done,
and are mindful of all that we have failed to do.
For the sake of Jesus, who died for us,
forgive us for all that is past,
and help us to live each day
in the light of Christ our Lord. Amen.
In 1 Thessalonians 3, the apostle Paul prays that: "The Lord may make our love overflow for each other and for everyone, that the Lord may strengthen our hearts in holiness so that we will be blameless before God."
The good news, is this: in and through Jesus Christ, our sins are forgiven.  So, let's praise the Lord again!  Read, sing [loudly!] or listen and sing [very loudly!] with this link:  https://youtu.be/YIHD40CZY34
Holy, holy, holy! Lord God Almighty!
Early in the morning our song shall rise to thee;
holy, holy, holy! merciful and mighty,
God in three persons, blessed Trinity!
Holy, holy, holy! All the saints adore thee,
casting down their golden crowns around the glassy sea;
cherubim and seraphim falling down before thee,
who wert and art and evermore shalt be.
Holy, holy, holy! Though the darkness hide thee,
though the eye of sinful man thy glory may not see,
only thou art holy; there is none beside thee,
perfect in power, in love, and purity.
Holy, holy, holy! Lord God Almighty!
All thy works shall praise thy name, in earth and sky and sea;
holy, holy, holy! merciful and mighty,
God in three persons, blessed Trinity!
Let's take a moment now to pray.  You may want to use these prayers or use your own prayers or perhaps a mix of both.  And if you like some gentle music to accompany your prayer, this link will take you to SaltOfTheSound and a track called 'Quiet Me'. https://youtu.be/eLN7ftGnHkM
But however, you pray, let's just pray remembering that we may not be able to be together physically, but we are together always in our spirit of prayer and worship.
Lord may our love become flesh this week.  May our love have skin on it, as yours did in the person of Jesus.  May our love not falter: when somebody's problem seems too great for us even to start helping: when we are tired and just do not want to listen to those closest to us; when we are fed up and want other people to notice our needs for a change.  May our love become flesh.
Dwell among us Lord this week.  May we never be able to escape your dazzling presence.  Dwell among us as we work, where we usually don't think of you, but need you all the same.  Dwell among us at home when emotions run high and we are angry and hurt.  Dwell among us when we are tempted to consult everyone except you.  Dwell among us in our closest relationships, where yours is the bond of peace and joy.
Lord, may our lives be full of grace this week:  full of grace, when we feel rejected, ignored or forgotten: full of grace, when we really want to be bitter and jealous and we feel full of envy; full of grace, when we dare to say what we actually feel; full of grace, when you set before us the Prodigal we know we should forgive.  May our lives be full of grace this week.
Lord, may our words be full of truth this week; truth which challenges hypocrisy and cowardice, even amongst our friends; truth which upholds the rights of the powerless, the poor and the neglected; truth which does not count the cost, but acts according to conscience; truth which speaks with humility and integrity and without arrogance and malice.  May our words be full of truth this week.
Lord, may we behold your glory this week.  May we see the divine splendour behind the ordinary events of our lives.  And as we see the depth and meaning of things, so may we live with more awareness of the sacred, and so with more joy and reverence through all our days. 
May the glory belong to Christ, in whose name we ask it.
And let's just join all our prayers together by saying together the Lord's Prayer...
Our Father, who art in heaven,
hallowed be thy name;
thy kingdom come;
thy will be done;
on earth as it is in heaven.
Give us this day our daily bread.
And forgive us our trespasses,
as we forgive those who trespass against us.
And lead us not into temptation;
but deliver us from evil.
For thine is the kingdom,
the power and the glory,
for ever and ever. Amen.
Our reading this week follows on from where we were last week, continuing in John Chapter 14.  In John chapter 14 verses 15 – 21, Jesus is urging, advising, and encouraging his disciples.  But although addressed to His disciples, His words are timeless in their address to all those who believe – to us.  Jesus is about to depart to the Father by way of exaltation in death and resurrection.  This act will secure the ministry of the Holy Spirit.  And the Spirit is nothing less than the life breath of the exalted Jesus, who makes the victory of Jesus available for the people of God in history.  The Holy Spirit is 'another Christ' (Luther) and so He is more of the answer to our troubled hearts.
Read slowly through this passage from John 14 [John 14: 15 – 21 NIV)
Jesus Promises the Holy Spirit
"If you love me, keep my commands. 16 And I will ask the Father, and he will give you another advocate to help you and be with you forever— 17 the Spirit of truth. The world cannot accept him because it neither sees him nor knows him. But you know him, for he lives with you and will be in you. 18 I will not leave you as orphans; I will come to you. 19 Before long, the world will not see me anymore, but you will see me. Because I live, you also will live. 20 On that day you will realize that I am in my Father, and you are in me, and I am in you. 21 Whoever has my commands and keeps them is the one who loves me. The one who loves me will be loved by my Father, and I too will love them and show myself to them."   
Reflection
Have you ever wished that you could have a personal, one to one, face to face chat with Jesus?  You know, a quiet moment to sit down with him to share with him your deepest concerns? To be in his physical presence, looking into his face, sensing his understanding, and hearing all that he has to say in response?  I know that I have.  Because I guess that such a moment would raise my self-worth, establish my security, and satisfy any feelings of emptiness.  For each of us, such a moment would bring great comfort and strength. But of course, having the 'helper', to use the term that is chosen to describe the Holy Spirit in the Good News Bible, is the same as having Jesus physically accessible.  We have access to the Holy Spirit right now and always.  He is at our side to be our helper, our counsellor, our comforter, and our guide. 
Each of those adjectives have been used at one time or another to describe the task of the Holy Spirit.  Personally, I'm not too sure that I like the choice of 'comforter' because to my ears, it sounds rather too much like a nice warm duvet or even heaven forbid, a do-gooder!  And I'm not sure that I like 'helper' very much either.  Because that has overtones of being a subordinate or inferior – and that is certainly not what I hear when I read of the presence and function of the Holy Spirit in John chapters 14 through to 16.  It is he who will bring conviction to our conscience and who will strengthen all believers (John 14: 16); he who will teach us all things and remind us of everything that Jesus has said (John 14: 25 – 6ff); he who will testify about Jesus (John 15:  26ff), prove the world to be in the wrong about sin and judgment (John 16:  5 – 11), and speak only what he hears from Jesus, making it known and thereby bringing glory to Him!  Quite clearly then, he is no subordinate! 
No.  In the original Greek, the Holy Spirit is called the Paraclete and that describes his function and all that he does so much better.  Because it includes the idea of encouragement.  It identifies someone who will shoulder the responsibility of another, someone who will come alongside of another and then remain alongside them throughout.  One Bible translation I'm familiar with uses the expression another friend for you.  And I like that.  I really like that description of the presence and role of the Holy Spirit.  The simplest is so often the best!  If we're going through hard times, it is the work of the Holy Spirit to come alongside and encourage us, just as a good friend would.  Just as we see that Jesus did throughout his earthly ministry.  In Romans 8: 9 Paul says that if anyone does not have the Spirit of Christ, they do not belong to Christ.  So, Paul calls the Holy Spirit the Spirit of Christ. In short then, the Holy Spirit is alter Christus to use Martin Luther's phrase, another Christ (v.16).  He is the gift of the departed Jesus to all those who believe, and he has a role and function that is parallel to that that Jesus had fulfilled on earth.
The Holy Spirit is another friend to be with (us) forever (v.16).  But there is even more to him than that.  Because he doesn't just come alongside us, he abides in us: for he lives with you and will be in you, says Jesus (v. 17).  I believe that Jesus is building here upon all that he had already said as he tried to set the disciples troubled hearts at ease, all that we were looking at last week in John 14: 1 – 6.  I think that what Jesus is now saying here is 'Don't be troubled.  Yes, I am preparing a place for you, but I am also making a place within you forever (v.16).'  So, this other friend, this alter Christus, the Holy Spirit, does not only come alongside us he also comes inside of us – and so, we are never alone. 
Do you know that feeling of being alone in the midst of trouble?  I think many more people do know that feeling just now, in this time of crisis, anxiety and doubt.  When we feel alone it is all too easy to be filled with self-pity and the thought that no-one cares.  But what Jesus is saying here, what he was saying to his disciples and so what he says to all those who will ever be his followers is 'You are never alone where you know and accept and receive the Holy Spirit.'  Even as I write this, I am struck by the power that seeps from that promise.  Take a moment to think about it for yourself:  You are never alone where you know and accept and receive the Holy Spirit.  I may not like the adjective 'comforter' to be used in a description of the Holy Spirit, but O my goodness, what comfort there are in those words!  Jesus is giving us the power to deal with the problems and difficulties of life – the Holy Spirit dwelling within us.  Not just working alongside but dwelling within.  Jesus is putting powerful, potent spiritual power at work in our lives.  What is he like this Holy Spirit?  He is like Jesus!  He comes alongside, he encourages, exhorts, and picks us up, dusting us down and so getting us going once again.  And don't we need even more of that now? 
Much of this comfort comes by virtue of the fact that the Holy Spirit is the Spirit of Truth.  And his indwelling of us allows us to begin to understand our inner self and so to see and understand something about the course of the world around us and about the truth of the new world that is revealed in and by Jesus.  Of course, none of this would be possible unless Jesus went away.  The gift of the Spirit cannot and must never be separated from all that's involved in the departure of Jesus: his death, resurrection, and ascension.  They are the turning point.  Together they inaugurate the dawning kingdom, a new creation.  They bring us fresh understanding and they bring us new life:  because I live, you also will live (v.19).  The Spirit makes all this truth about Jesus known.
The question is, I suppose: do we really want that face to face chat with Jesus, or not?  Do we really want Jesus to be with us always? Do we want the fear to be driven out of our lives?  Do we really want to learn the truth about Jesus and who he is, what he says, about what he has done, what he's doing and what he will do? If we do want those things, then we need to be filled with the Holy Spirit. 
Do you want to be filled with the Holy Spirit?  Do you want access to the Holy Spirit?  Then ask in prayer. And ask again. And keep on asking. And he will come to you and make his home with you.  How do I know?  "For everyone who asks receives…"
And so, let's finish in praise.  Read, sing, or listen to and sing along with 'In Christ Alone' as sung by Stuart Townend:   https://youtu.be/ouGuG97l2RY  
(Stuart Townend & Keith Getty Copyright © 2001 Thankyou Music )
In Christ alone my hope is found,
He is my light, my strength, my song;
This Cornerstone, this solid Ground,
Firm through the fiercest drought and storm.
What heights of love, what depths of peace, when fears are stilled, when strivings cease!
My Comforter, my All in All,
Here in the love of Christ I stand.
In Christ alone! – who took on flesh,
Fullness of God in helpless babe.
This gift of love and righteousness,
Scorned by the ones He came to save:
Till on that cross as Jesus died,
The wrath of God was satisfied –
For every sin on Him was laid;
Here in the death of Christ I live.
There in the ground His body lay,
Light of the world by darkness slain:
Then bursting forth in glorious day
Up from the grave He rose again!
And as He stands in victory
Sin's curse has lost its grip on me,
For I am His and He is mine –
Bought with the precious blood of Christ.
No guilt in life, no fear in death,
This is the power of Christ in me;
From life's first cry to final breath,
Jesus commands my destiny.
No power of hell, no scheme of man,
Can ever pluck me from His hand:
Till He returns or calls me home,
Here in the power of Christ I'll stand.
A final Prayer
Almighty God,
by your Holy Spirit
help us to see your presence
burning in the hearts of others;
grant that we may be united
in a fellowship of love and prayer;
give us the courage to pick up our cross
and respond to the needs of the world,
give us the stamina to follow you,
to be your hands and heart in the world;
enable us to witness to your grace and mercy.
We pray all this
through the love of your son, Jesus Christ.
Amen.
The grace of our Lord Jesus Christ,
and the love of God,
and the fellowship of the Holy Spirit
be with us all,
now and for evermore.
Amen.
With my love and prayers for you all.
John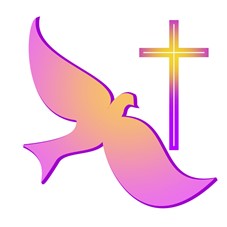 Bible Quotations:  Holy Bible, New International Version® Anglicized, NIV® Copyright © 1979, 1984, 2011 by Biblica, Inc.® Used by permission. All rights reserved worldwide.
Prayers and Liturgy:  copyright © The Archbishops' Council of the Church or England
Cross Photograph:  <a href="https://www.freepik.com/free-photos-vectors/christmas">Christmas photo created by jcomp - www.freepik.com</a&gt;