Worship @ Home - Pentecost
Worship at Home: "And afterward, I will pour out my Spirit on all people.  Your sons and daughters will prophesy, your old men will dream dreams, your young men will see visions.  Even on my servants, both men and women, I will pour out my Spirit in those days."
(Joel 2: 28 – 29)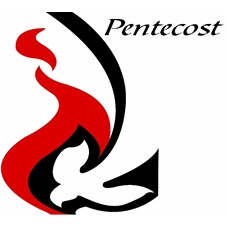 Grace, mercy and peace
from God our Father
and the Lord Jesus Christ be with you.
And also with you.
Good morning and welcome to everyone on this Day of Pentecost.
Jesus Christ, whom we worship, is our crucified, risen, and ascended Lord and we have walked with him through his journey of love.  We have faced the agony of his suffering and death on a cross.  We have rejoiced at his bursting free from the bonds of death.  We have enjoyed his risen presence with us and his revelation of himself through the breaking of bread.
We have seen his return to the throne before which every knee shall bow, and every tongue confess that this Jesus is Lord.  And now, with the followers of his own time, we await the coming of the promised Holy Spirit, his gift to his people, through whom we make Christ known to the world.
Let us pray
As we wait in silence,
fill us with your Spirit.
As we listen to your word,
fill us with your Spirit.
As we worship you in majesty,
fill us with your Spirit.
As we long for your refreshing,
fill us with your Spirit.
As we long for your renewing,
fill us with your Spirit.
As we long for your equipping,
fill us with your Spirit.
As we long for your empowering,
fill us with your Spirit.
Holy One,
ignite within us a fiery passion
for your mission in the world today.
Warm us by the Spirit's dancing tongues of flame,
that we may feel your kindling blaze within,
urging us to do your greater good.
Make us wholly present to experience a new birth,
and awaken possibilities within us
to share your love in the world.
In this love and abundance,
we come to celebrate your harvest—
a harvest bearing the first fruits of the Spirit
within us.
Show us how to use these gifts,
as we listen for your truth
in the gentle breeze of your Spirit.
Amen.
Let's praise the Lord with these words.  Say them, sing them or just listen using this link. https://youtu.be/jIMhshpf0Y4  
Be thou my vision, O Lord of my heart;
naught be all else to me, save that thou art--
thou my best thought by day or by night,
waking or sleeping, thy presence my light.
Be thou my wisdom, and thou my true word;
I ever with thee and thou with me, Lord;
thou my great Father, I thy true son;
thou in me dwelling, and I with thee one.
Be thou my battle shield, sword for my fight;
be thou my dignity, thou my delight,
thou my soul's shelter, thou my high tow'r:
raise thou me heav'n-ward, O Pow'r of my pow'r.
Riches I heed not, nor man's empty praise,
thou mine inheritance, now and always:
thou and thou only, first in my heart,
High King of heaven, my treasure thou art.
High King of heaven, my victory won,
may I reach heaven's joys, O bright heav'n's Sun!
Heart of my own heart, whatever befall,
still be my vision, O Ruler of all.
Let us pray
We turn to God in prayer not because we are compelled but because God invites us. We come to God not because of our righteousness but because of God's grace.  In that spirit, let's come before the Lord now in a moment of confession and unburdening.
Writing to the Corinthians, St Paul says: What God has prepared for those who love him, he has revealed to us through the Spirit; for the Spirit searches everything (cf 1 Corinthians 2.9).
Therefore, let us in penitence open our hearts to the Lord, who has prepared good things for those who love him.
We confess to you our selfishness and lack of love:
fill us with your Spirit.
Lord, have mercy.
Lord, have mercy.
We confess to you our fear and failure in sharing our faith:
fill us with your Spirit.
Christ, have mercy.
Christ, have mercy.
We confess to you our stubbornness and lack of trust:
fill us with your Spirit.
Lord, have mercy.
Lord, have mercy.
May the Father forgive us
by the death of his Son
and strengthen us
to live in the power of the Spirit
all our days. Amen
'When the day of Pentecost had come, they were all together in one place. And suddenly from heaven there came a sound like the rush of a violent wind, and it filled the entire house where they were sitting.'
Acts 2, Chapter 2

My friends, God is not done with us, not by a long shot. You are more beloved than you can ever know, and God is working in you and in the world beyond our wildest imagining. The beginning of all that is forgiveness. So, know that you are indeed forgiven, and be at peace. Amen.
Let's praise the Lord.  Read, sing, or listen to this great song of praise.  It reminds us, I think, of what the love of God has done for us in and through our Lord Jesus Christ.  https://youtu.be/Z3IfSXlp3m0
My song is love unknown,
my Saviour's love to me,
love to the loveless shown,
that they might lovely be.
O who am I, that for my sake
my Lord should take frail flesh and die?
He came from his blest throne,
salvation to bestow;
but men cared not, and none
the longed-for Christ would know.
But oh, my Friend, my Friend indeed,
who at my need his life did spend!
Sometimes they strew his way,
and his sweet praises sing;
resounding all the day
hosannas to their King.
Then "Crucify!" is all their breath,
and for his death they thirst and cry.
Why, what hath my Lord done?
What makes this rage and spite?
He made the lame to run,
he gave the blind their sight.
Sweet injuries! Yet they at these
themselves displease; and 'gainst him rise.
Here might I stay and sing,
no story so divine;
never was love, dear King,
never was grief like thine.
This is my Friend, in whose sweet praise
I all my days could gladly spend.
On this Pentecost Sunday let us pray
God, who as at this time
taught the hearts of your faithful people
by sending to them the light of your Holy Spirit:
grant us by the same Spirit
to have a right judgement in all things
and evermore to rejoice in his holy comfort;
through the merits of Christ Jesus our Saviour,
who is alive and reigns with you,
in the unity of the Holy Spirit,
one God, now and for ever.
Amen
And let's stay in prayer as we pray for the world, the church and for the needs of others.
O God of Pentecost, we pray for the universal Church in its many forms and expressions; breathe afresh on your people that the Church may display your wonders and faithfully tell your story. Come Holy Spirit.
Come Holy Spirit
O God of enabling fire we pray for bishops, synods and all who lead; pour out your spirit on your servants that they may be those who see visions and dream dreams. Come Holy Spirit.
Come Holy Spirit
O God of all creation
we pray for the natural world and the resources of the earth;
may the spirit who brooded over the waters
at the birth of creation
help us to be good stewards of all you have made
and vigilant in safeguarding the integrity of creation. Come Holy Spirit
Come Holy Spirit
O God of new life
we pray for those in need;
come as gentle breeze and comforting warmth
that those who are struggling in life at this most difficult time
may find in you the hope and strength they need.
Come Holy Spirit
Come Holy Spirit
O God who surprises us, we pray for ourselves; fill us again that we may be those who are open to the new in ourselves and the new in others. Come Holy Spirit
Come Holy Spirit
O God in our midst
strengthen us in our endeavours
keep us mindful of the foolishness of the cross
that we might not miss
the signs of life, the breath of God
or the wonders of the Kingdom.
Amen
And let's join our prayers with Christians across the world as we pray in the words that Jesus taught us.
Our Father, who art in heaven,
hallowed be thy name;
thy kingdom come;
thy will be done;
on earth as it is in heaven.
Give us this day our daily bread.
And forgive us our trespasses,
as we forgive those who trespass against us.
And lead us not into temptation;
but deliver us from evil.
For thine is the kingdom,
the power and the glory,
for ever and ever.
Amen.
Please read slowly through this passage from John 20: 19 – 23.  Read each line carefully, pausing at the end of the line to think about what it says to us.  Read the passage through a few times before moving on to read John Witherington's reflection.
Jesus Appears to His Disciples
19 On the evening of that first day of the week, when the disciples were together, with the doors locked for fear of the Jewish leaders, Jesus came and stood among them and said, 'Peace be with you!' 20 After he said this, he showed them his hands and side. The disciples were overjoyed when they saw the Lord.
21 Again Jesus said, 'Peace be with you! As the Father has sent me, I am sending you.' 22 And with that he breathed on them and said, 'Receive the Holy Spirit. 23 If you forgive anyone's sins, their sins are forgiven; if you do not forgive them, they are not forgiven.'
Reflection – written by John Witherington
"As the Father has sent me, I am sending you." 
Lord Jesus, why did you have to say it like that?  I get the sending.  I do.  But those words "As the Father sent me" I have to be honest are a little daunting.  I thought at first that they meant simply that you were sent and so, as with your first disciples, am I.  That I understand.  But now I think about it, it dawns on me that you were sent to die.  Is that how you're sending me?  In one sense, I suppose, yes.  You yourself bore my sins in your body on the cross, so that I might die to sins and live for righteousness.  But you know better than anyone how often I fail.
Your being sent by the Father is something you obviously want me to grasp.  John repeats it 41 times in his Gospel.  How is it so important?
Is it that 'sent' reminds me of your unity with the Father?  You and he are one, you said.  It's love that binds you together.  And, by your mercy and grace, you've invited me into that bond of unity for as the Father has loved you, so you have loved me.  And what an amazing love that is!  As a man you remained in your Father's love by keeping his commands.  I must do the same to remain in yours.  But obedience, as you know, doesn't come easily to me.
'Sent' also points me to your dependence on the Father.  You said you could do nothing by yourself, only what you see your Father doing.  This reminds me of the discipline of your prayer life and how mine is but a fleeting shadow of yours.  But I know that if I remain in you, I will be fruitful and that apart from you I can do nothing.
The Father's sending also gave you a mission.  You said that you came that we might have life and have it to the full.  Every day I'm in awe of your sacrifice for me and thankful for my new life.  Help me to live it to the full in you.  The driving force of your mission -in everything you said and did- was to give your Father glory.  May that be my purpose too, as I play my part in bringing your message of life to others.  If I show myself to be your disciple, this will be to your Father's glory.  Forgive me when I fail.
The Father's sending also gave you authority; your sending of the disciples gave them authority.  I know that applies to me too, though it's a mind-blowing thought, Lord, that whoever believes in you will do the works that you have been doing -and will do even greater things!  You did not come on your own authority; God sent you.  I do not go on my own, but because you send me.  You exercised your Father's authority to heal the sick, cast out demons, grant forgiveness of sins and raise the dead.  The first disciples exercised your authority.  Forgive my fear and the smallness of my faith when I haven't even spoken up for you.
When the Father sent you, he didn't leave you without the power to exercise that authority or without the abiding of his presence.  The Holy Spirit came upon you at your baptism.  And, true to your promise to the disciples, you asked the Father to send the Holy Spirit to come in power on them; hence that life-changing, amazing, Pentecost event in which I rejoice with my friends to celebrate today. 
But first you breathed upon your disciples the Holy Spirit, the source of life, just as the Creator gave life to man whom he formed from the dust of the ground; just as the divine breath gave life to the bones in Ezekiel's dream.  Just as the Father sent you.  Just as you send me.
Thank you, Jesus.  I'm beginning to get a glimpse of how your being sent is so important.  But the world you have sent me into is full of death and despair at the moment, of deprivation, political confusion, unrest and economic gloom.  It is an awesome task to be sent by you as you were sent.  But I know I have your abiding presence with me always, through that same Holy Spirit who came in power upon those first believers in Jerusalem two thousand years ago.
So will you, Lord, I pray,
'Breathe on me, breath of God:
fill me with life anew.'
You know my need.
Ever yours, 
John.
And so, let's finish in praise.  https://youtu.be/6ph-t8P2r_I  
Breathe on me, Breath of God,
fill me with life anew,
that I may love the way you love,
and do what you would do.
Breathe on me, Breath of God,
until my heart is pure,
until with Thee I will one will,
to do and to endure.
Breathe on me breath of God
till I am wholly Thine, until this earthly part of me
glows with the fire divine.
Breathe on me, Breath of God,
so shall I never die,
but live with Thee the perfect life
of Thine eternity. 
A final prayer
Eternal God, giver of love and power,
your Son Jesus Christ has sent us into all the world
to preach the gospel of his kingdom:
confirm us in this mission,
and help us to live the good news we proclaim;
through Jesus Christ our Lord.
Amen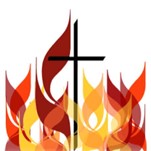 Copyright
Pentecost Images: http://clipart-library.com/pentecost-cliparts.html and http://clipart-library.com/clipart/5334.htm
Bible Quotations:  Holy Bible, New International Version® Anglicized, NIV® Copyright © 1979, 1984, 2011 by Biblica, Inc.® Used by permission. All rights reserved worldwide.
Prayers and Liturgy:  copyright © The Archbishops' Council of the Church or England
Some prayers - CPAS